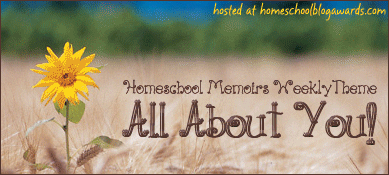 I decided to participate in the new homeschool memoirs meme (see link in my sidebar). Their theme for this week is "All About You!". So here goes!
I come to homeschooling honestly--I was homeschooled myself until age 8, when I entered 3rd grade at the local elementary school in a small farming town in Utah. My mother, with a degree in Physical Education, didn't have much use for the educational and child-development theories of the day. She kept us home, made sure we were acquainted with basic reading, writing and math, made us practice violin pretty much every day, and otherwise gave us the run of a 25 acre farm. Honestly, I think I had an ideal childhood.
I started school at age 8, but bigger changes in my life were in store. The summer I turned 9 my dad left his small law practice to accept a Foreign Service job with the State Department. There were 6 of us children at the time, and we embarked with varying degrees of excitement/trepidation on the adventure of a lifetime. We spent about 9 months in Virginia while my dad was in training as a Foreign Service officer, then proceeded to overseas assignments in Guatemala, France, Bolivia, and Austria. Along the way our family grew to include 10 children, three of them born overseas. In addition to my homeschooling years, I was able to experience public and private schools in several different countries. In fact, in ten years of schooling I attended 7 different schools, in 3 different languages. After graduating from high school in Vienna, I returned to the States for college, where I attended Brigham Young University in Utah. I majored in Anthropology, minored in Microbiology, joined the Air Force ROTC, served as a missionary in Japan for 18 months, married the love of my life, graduated from college, and moved to Texas. Wow, those were busy years! A couple of highlights of my young adult years were an archeology dig I participated in at Petra, in Jordan, and a Eurailing trip with my sister and friends. I served in the Air Force for less than two years; when I was pregnant with my first child I decided she needed me more than the military did, and that has been one of the best choices I ever made. A few months after Lily was born my husband took a job in California and we have been here ever since. We added Luke to the family about 3 years ago, and Baby Esther last December. This is our first year of officially homeschooling, although in a way I have been doing it ever since Lily was born! When I was first introduced to Charlotte Mason's works, I felt like I had met an old friend--actually, I thought I was reading something my mother could have written. I think they would have liked each other very much. Anyway, I base much of my homeschooling on her philosophies. I'm really looking forward to the years ahead.