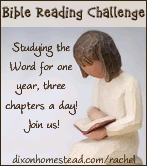 I haven't done a Bible Reading Challenge post in a long time, but have had one on my mind this past week. This post is partly inspired by a hymn my friend Kelley quoted in a recent
post
on her blog:
I'll Go Where You Want Me to Go
(words by Mary Brown)
It may not be on the mountain's height
Or over the stormy sea,
It may not be at the battle's front
My Lord will have need of me;
But if by a still, small voice He calls
to paths that I do not know,
I'll answer, dear Lord, with my hand in Thine,
I'll go where You want me to go.
Chorus:
I'll go where You want me to go, dear Lord,
Over mountain or plain or sea;
I'll say what You want me to say, dear Lord,
I'll be what You want me to be.
Perhaps today there are loving words
Which Jesus would have me speak,
There may be now, in the paths of sin,
Some wand'rer whom I should seek;
O Savior, if Thou wilt be my Guide,
Tho' dark and rugged the way,
My voice shall echo the message sweet,
I'll say what you want me to say.
Chorus:
I'll go where You want me to go, dear Lord,
Over mountain or plain or sea;
I'll say what You want me to say, dear Lord,
I'll be what You want me to be.
There's surely somewhere a lowly place
In earth's harvest fields so wide,
Where I may labor through life's short day
For Jesus the Crucified;
So, trusting my all to Thy tender care
And knowing Thou lovest me-
I'll do Thy will with a heart sincere,
I'll be what You want me to be.
Chorus:
I'll go where You want me to go, dear Lord,
Over mountain or plain or sea;
I'll say what You want me to say, dear Lord,
I'll be what You want me to be.
This hymn has been a favorite of mine for many years; I feel that it expresses well my most sincere desires--to do, say, and be what the Lord wants me to. I am afraid that many times I fall terribly short, but I am striving.
How does this tie into my Bible study? I have just recently read the last several chapters of Genesis, which tells the story of Joseph in Egypt. The entire book of Genesis is, in many ways, about going where the Lord wants us to go and doing what He wants us to do. We have the story of Noah, building a boat on dry land--a huge undertaking, built completely on faith. We have Abraham leaving him home, living his life as a nomad in a land the Lord promised would belong to his descendants--only he had no descedants and other powerful peoples inhabited the land. He went in faith. We have Abraham obediently preparing to sacrifice his covenant son Isaac, not knowing that he would not be required to follow through. Time after time we read the stories of people who acted in faith, trusting in the God they had pledged to obey, when they themselves could never have seen the way ahead of them. The story of Joseph's life is among the most remarkable of these histories.
By ordinary standards, Joseph's early life looks like a series of undeserved tragedies: his mother Rachel died giving birth to his younger brother Benjamin; his father Jacob favored him but his older brothers were jealous. In fact, their resentment became so great that they sold him to some traders who took him to be a slave in Egypt. How did Joseph react to this? He went to work with such integrity and diligence that his master Potiphar gave him stewardship over his entire household. Things seemed to be going pretty well. But then Potiphar's wife, resentful of Joseph's resistance to her advances, made false accusations against him that landed him in prison. What did Joseph do? Evidently his faith did not falter. He proved once more to be trustworthy and hardworking, and the keeper of the prison put him in charge of the prison affairs. Now we know, because we have read the end of the story, that it was here in the Egyptian prison that Joseph met Pharoah's chief buttler, who played a key role in bringing Joseph to Pharoah's attention as an interpreter of dreams. And this led to Joseph becoming second-in-command over all Egypt, and also to his rescue of his father's household from the famine. Joseph himself says to his brothers, when he makes himself known to them,
"Now therefore be not grieved, nor angry with yourselves, that ye sold me hither: for God did send me before you to preserve life. "
(Genesis 45:5). And so, in hindsight, Joseph's story makes sense: Joseph needed to be sent ahead to Egypt, needed to be in the right place (prison) to meet the chief Butler, so that he could be made known to Pharoah and act to save both Egypt and his own family from famine. But did Joseph know all this along the way? No. What Joseph did know is what we also know: God is faithful, and if we will put our trust in Him, He will lead us where He wants us to go. "The Lord is my shepherd...". Perhaps it is significant that the patriarchs of the Old Testament were herdsmen--shepherds. They understood the principles of following a leader in trust--as sheep must do in an arid land; it is the Shepherd who knows how to find good pasture, sweet water, and can protect them from danger. If the sheep take it upon themselves to follow a different path, they will soon find themselves in trouble.
Do we have the faith to be like Noah, like Abraham, and like Joseph? It is so hard sometimes to move forward in trust--we desperately want to be able to see the way clearly before us. But if we will seek to know the Lord's will for us, then act on promptings He sends, we will find that way ahead of us is much grander than we, with our limited vision, could comprehend.
After I graduated from college I served for a time as an officer in the Air Force. Within a year, I discovered I was pregnant with my first child. I felt strongly that, when I had children, I needed to take care of them myself, not entrust them to someone else. I found that I could request a discharge from the Air Force on grounds of pregnancy. The only problem was, my husband had left his job in Utah to come to Texas with me, but had been unable to find a job in Texas. If I left the Air Force, we would be without employment unless he could find something. We fasted and prayed together to know what to do, and felt that it was the right decision for me to quit work and stay home. When I discussed this with my supervisor, who knew of my husband's unemployment, he said to me "I don't want to see you make a decision on blind faith".
Is faith blind? I don't believe it is. When we act in faith we may not see more than a step or two on the road ahead of us, but what we can see is our Shepherd, and we know that as long as we follow Him, we will end up where we need to be. A month before our baby was due, I said goodbye to my career. That same afternoon my husband received an offer for work--not the kind of work he was looking for, but something that could provide some support for the family. Over the course of the next few months he held a couple of temporary positions, and finally landed a job with good career possibilities halfway across the country. I am confident that the Lord was leading us, through that time and since, to go where He wants us to go. He has taken care of us and, to the extent that we seek to know and follow His will, He will continue to lead us.